Every website has some sort of form these days. It can be a simple contact form or a full-fledged information form to get details from your clients, or it can just be a simple lead capturing form.
Usually, most of the contact forms are configured to send a notification to the site admin containing all the details submitted by the site visitor. The leads that are captured through the contact form plays an important role in enhancing our business, so only relying on the email system is not sufficient. Ensuring that you are not losing any data and missing leads we need to save our data in the database also.
In WordPress, there are many plugins that allow you to create fully-functional Contact Forms for your WordPress websites. However, some popular plugins, only notify you on form submission they do not provide the feature to save the form submissions in the database.
So why do we actually need to save submission to the database
Contact forms are very important as they help you to build relationships with the customer and also helps in improving the conversion rates. The list of email addresses captured through these forms is a very important marketing asset.
There are multiple reasons to send your WordPress contact form data to your database.
Leads generated by the contact forms are beneficial for the business, so only being reliable on email is not a trustworthy option.
Imagine if you get tones of inquiries every day, your inbox will be flooded with emails and if you want to look for a specific inquiry, then it won't be an easy job.
Searching details of a specific visitor will be difficult with email as there would be many mails to go through.
If you have multiple contact forms for integration, then how will you make out which email is from which form.
If you only rely on email for contact form data, you cannot export and analyze the captured leads for future references.
Benefits of saving contact form submissions to Database
1. Backup:
Keeping a copy of leads generated by the contact form is necessary as the information that we capture is precious for our business. Having an extra backup for our data ensures that the data is secure, and you can easily review it when needed.
2. Managing Leads:
When we save our contact form data, we can easily manage our data. We can easily Export, delete, and can view the submissions in one place.
3. Communication Ease:
When we save form data, we can easily establish communication with our clients. As all the leads generated by our form are in one place, so we can easily search for details of a specific person. We can extract the contact information of visitors to make future collaborations and integrations.
4. Easy To Analyze Submissions:
As the form submissions are stored in one place, we can easily analyze and monitor the performance of the form. We can use the collected data to create reports and graphs to track the form performance.
Using Plugins to Save Submissions
By now we have seen how important is it to save contact form submissions in the database. However, now the question arises is how to achieve this.
The answer to this question is using a plugin that automatically captures the form submissions in the database. Form Vibes is a submission manager plugin. Just install it on WordPress websites and it will start capturing form submissions. It works great for the form builder plugin that has no default submission manager such as Contact Form 7 and Elementor's Form widget.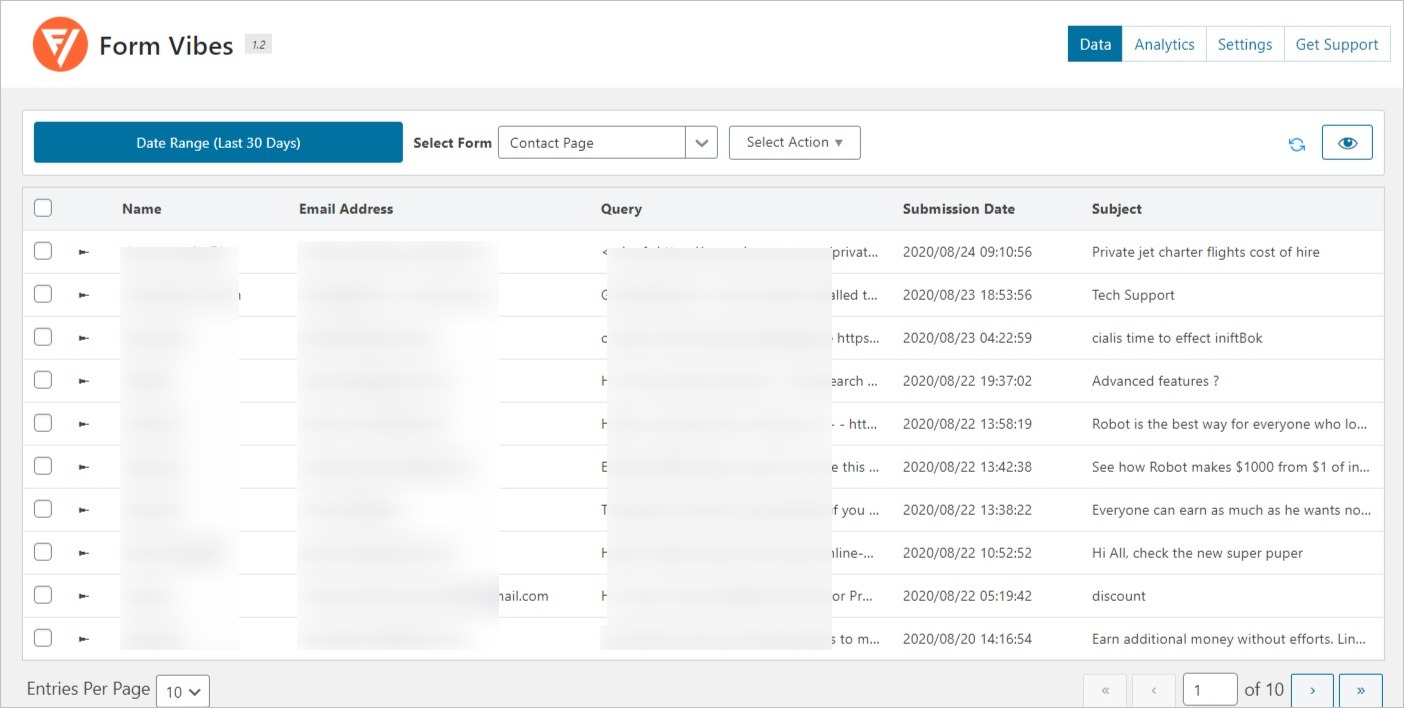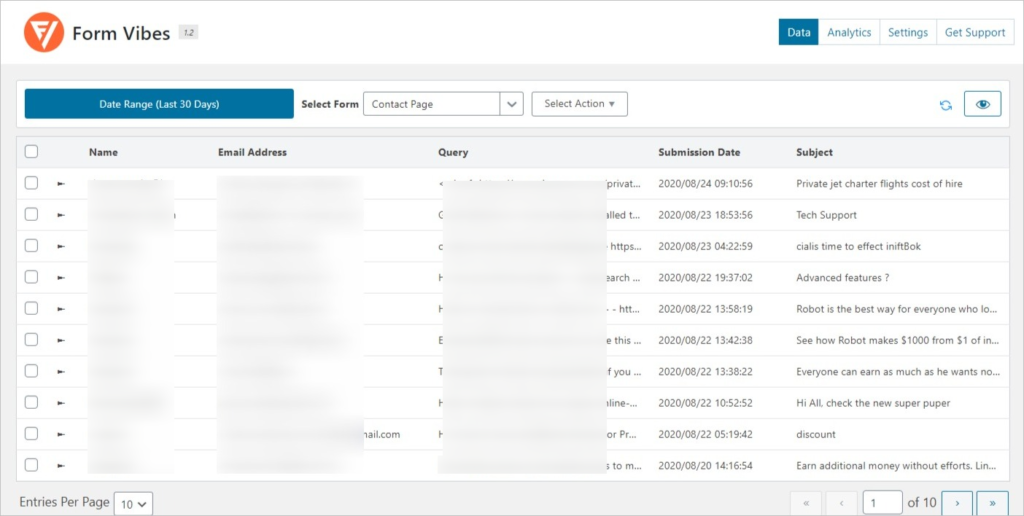 For more details regarding Form Vibes usage